When I was a kid, until I was, oh, 5 or so, friends were easy. I was friends with the children of my parents friends who were my age. 
Then we moved. And we moved again and again and again. Even when we weren't moving every few years, for some reason my parents thought it would be best to put me in different schools every so often. This wasn't as big of a deal as other people made it out to be. Especially since I knew that as soon as I went to college I'd have to leave everyone behind anyway.. 
Anyway, so I had this hope that someday, in college, I'd have this zany group of friends and we'd get up to hijinks. 
Or at something like this
I'd dreamed of late nights with long intelligent conversations about art and music and humanity. With wacky hijinks. 
But instead it was more like this
And I told myself that since I was going to move away after college it didn't matter that much. (I had a few friends, btw. Just nothing like the "serious deep friendships" that I was lead to believe happened in college.)
I was going to move away and then this would be my life! 
Let's not talk about Carrie's fashion choices or my version of her outfit (complete with headscarf.) Never mention it again. I have hopefully removed all photos from the internet. 
There was never this in my future. 
Why are they all touching? That's WEIRD. Stop touching! Go get jobs! How do you afford your apartment? Even with the rent control, it's unbelievable. 
I have, however, in the last ten years managed to make friends who I don't work with, go to school with, or am otherwise forced to socialize with. But that leads me to the next problem with friends. 
The goodbye party. 
Sometimes they are fun.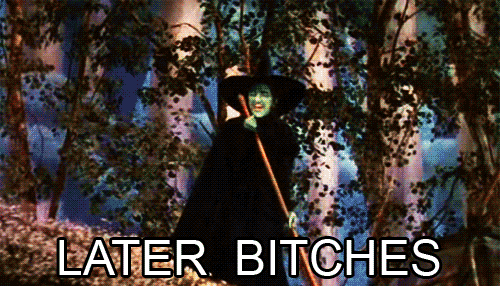 They are always sad. 
Anyway, so one day I had this:
And now I am back to this. 
Which is also nice. 
8